Description
FREE SHIPPING WITH COUPON CODE : SINGXER
We are the Singxer USA distributor! Shipped from USA!
Singxer F1 – the best solution to upgrade your USB!  Note: we also have a nice aluminum case available for these! case is only $35.00
     F-1 digital interface module, the whole network starting. The first use of the second generation XMOS chip developed high-XU208 USB interface, support firmware upgrade. Self-developed schematics and firmware (including XMOS and CPLD), non-reference design.
The reason why Singxer F-1 is so great is that it primarily uses some of the following TECHNOLOGY :
1. full isolation technology, 150Mbps full-chip isolation, interference can be completely isolated from the PC;
2. source synchronous shaping technology and CPLD technology, I2S signal isolation after the re-shaping; thus eliminating the isolation chip to bring added jitter;
3. the independent development of the system clock, using femtosecond CRYSTEK custom clock, ultra-low phase noise, low jitter.
Product Description:
F-1 digital interface of our team to develop a high-performance USB digital audio interface, using the XMOS latest xCORE-200 series chips. F-1 is the rare use of ultra- low-jitter femtosecond clock digital system interface. F-1 digital interface using standard USB2.0 input interface, while F-1 has a wealth of output interfaces, including coaxial RCA and I2S interfaces.
Features:
1. F-1 is the first using the XMOS latest xCORE-200 series of high-end USB digital interface products.New generation XMOS chip, using more advanced processing technology. It's performance compared to the older U8 chip has doubled, reaching 1000MIPS processing capabilities.
2. it is known, the weight of the core is digital audio algorithms. Our team in the field of digital audio work for many years, at the same time get XMOS FAE support team, we conducted a number of technical improvements and optimization algorithms on the basis of the original firmware.
Specifications:
Each output interface supports sample rates:
PCM:44.1KHz,48KHz,88.2KHz,96KHz,
176.4kHz, 192KHz, 352.8KHz, 384kHz
[ Wherein I2S out support full sample rate , S / PDIF supports up to 192KHz]
DSD:2.8 MHz (DSD64) – DoP, native
5.6 MHz (DSD128) – DoP, native
11.2 MHz (DSD256) – DoP,native
[ Wherein I2S out support all DSD format , S / PDIF and AES / EBU support DSD64 DOP mode ]
位宽:最高32 bit over I2S output
最高24 bit over S/PDIF
Screw position, I2S pin position is fully compatible with Italy Amanero module
The entire board with three crystal design, all are imported SMD crystal using active crystal. Wherein the audio
Crystal is CRYSTEK CCHD 575 series customized version of the crystal.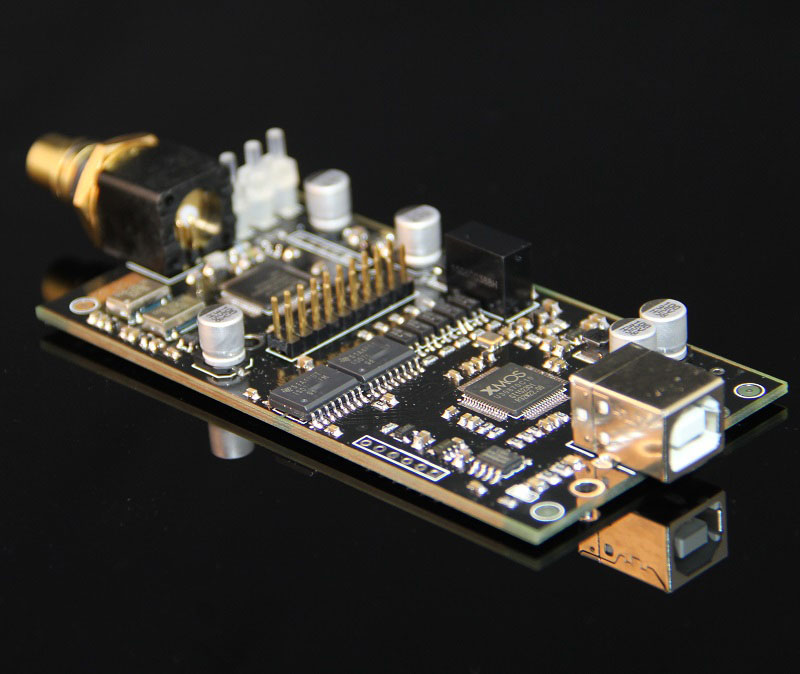 Each interface electrical standards:
1 , the USB input socket is a standard USB-B type female, the USB power supply range 4.5V-5.1V ;
2 , the RCA connector outputs standard S / PDIF signal level is 550mV ( access standard load ), the output impedance of 75 ohms;
Design details:
1 , carry out electricity as the mother of the acoustic design concept, pay attention to the power supply circuit design, high-performance, low noise and fast response of the LDO as the main power source. The entire board using 2 independent way of LDO power supply, wherein the clock even partially adopted ADI 's ultra low noise LDO , in order to ensure the ultimate output performance laid a solid foundation.
2 , the PCB motherboard with 4 -layer circuit board design, ensure that you have full power and ground plane layer, using the method of high-speed digital design, signal integrity and power integrity of the entire board. The clock signal for special treatment, using package design and precise impedance control, thereby ensuring the signal quality and increase the clock anti-jamming capability. Input and output signals follow a standard design, especially USB high speed signals using a 90 ohm differential impedance control.
System Compatibility:
1, Windows XP, Windows 7, Windows 8; 32/64 bit, Download drivers from our site.
2, Native MacOS 10.6 and later, using the system comes with drivers
3, Native Linux with UAC2 compliant kernel, using the system comes with drivers
4, Android OS 4.2 and above, the need to support OTG function.