Description
KTE-SU1 DDR comes pre-loaded with firmware v2.20 for the HoloAudio KTE Spring dac and enables DSD512 native via windows and some versions of linux (newest Sonore uRendu works flawlessly with dsd512 native). The DDR model is new as of October 2017, it includes dual discrete regulators, one for 5v PSU, and the other for the 3.3v for digital outputs. (USB High Retention connector modification upgrade version is 819USD msrp w/free shipping to USA) OSCON Ultra low ESR caps, MB mods, upgraded regulators for crystek clocks (total of 4 regulator upgrades) air dialectric SPC solid core hookup wire, silver rhodium fuse,  Vishay film caps, Kycon High Retention USB connector to improve connection quality/impedance.


Kitsune HiFi is proud to bring you many excellent products:
SINGXER SU-1 DRIVERS & DIGITAL MANUAL
download both firmwares and software for firmware installation and step by step instructions to change (only difference of firmware is swapping dsd channels Left to Right or Right to Left)
click Singxer English FIRMWARE 2.00 and 2.02 Kitsune
Note:(as of late 2018 SU-1's no longer have their front faceplate printed "DSD256" now they say "DSD512"
Also take note 2018 models have improved HDMi i2s circuit with custom 4way circuit that improves sounds quality from previous versions. (rev2.00 motherboard) we only carry rev2.00 boards now.
1.only for Singxer SU-1,support DSD512 in native.
2.Do not upgrade any other XMOS device,including SINGXER other XMOS device.
3.V2.20 update for V2.00; (for holo audio, Audio-GD, L.K.S.)
V2.22 update for V2.02. (for PSAUDIO, Gustard, )
We now have a working relationship with SingXer (http://www.singxer.com/) from Guangzhou China. We will be carrying several of their products to offer as a local distributor in the USA. Currently we are choosing to offer the Singxer SU-1 and the F1 usb module.  We feel these are the best USB options on the market today and proudly will offer these to you at competitive pricing!
A little bit about SingXer:
Sound Electronics Co., Ltd. Guangzhou Shi current office located in a beautiful Panyu District, Guangzhou City. Shi electronic sound team was founded in 2011 , by several team members have many years of experience in the development of audio products, product managers and senior engineers.Since the team was established, within the audio industry to undertake a number of technical development projects, the development team has been the outcome of customer satisfaction and recognition.
The company develops high-performance audio products, audio products can undertake OEM, ODM projects. We have a strong development capability in terms of XMOS Audio, pioneered the development of the second generation XMOS xCORE-200 series processors, XMOS Audio optimized many of the underlying firmware. Meanwhile, in the above hardware architecture, there are some technical points independent development. Including the independent development of the system clock, independent development of digital phase-locked loop technology "SHDPLL", I2S shaping, full isolation technology and so on.
and info on the products we carry from Singxer.
SU-1
 SU-1 digital interface is Singxer team developed a high-performance USB digital audio interface, using the latest XMOS family and Xilinx high-performance CPLD / FPGA chip. SU-1 is the rare use femtosecond system clock digital interface, Crystek of two CCHD-575 SU-1 crystal is the ultimate output audio signal quality has laid a solid foundation. SU-1 digital input interface using a standard USB2.0 interface. SU-1 has a wealth of output interfaces, including coaxial RCA and BNC output S / PDIF, XLR balanced outputs AES / EBU, HDMI output IIS (including DSD ON and MUTE signals) and BNC WCLK word clock output.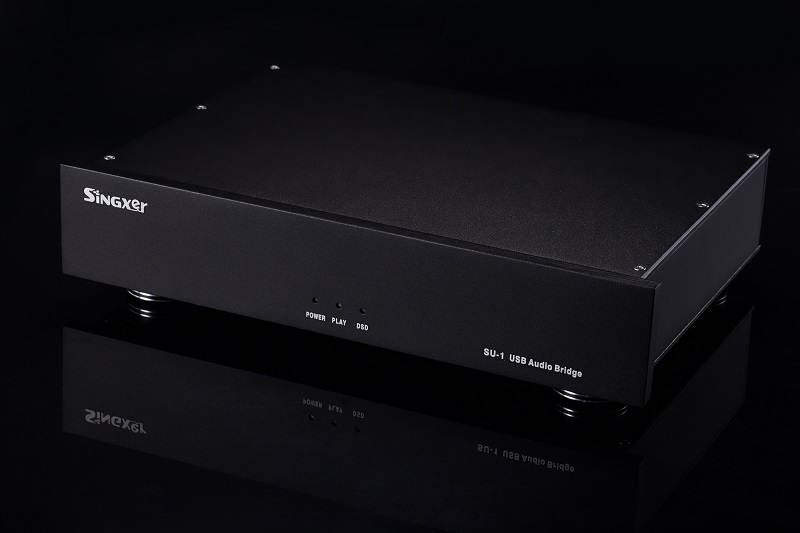 SU-1 is the first machine we have developed equipment that is positioned in the high-end interface, is used mainly in the following three main technologies:
1, full isolation technology (ground isolation), the use of 150Mbps full-chip isolation, interference can be completely isolated from the PC;
2, source synchronous shaping technology and CPLD technology, I2S signal isolation after the re-shaping; thus eliminating the isolation chip to bring added jitter;
3, the independent development of the system clock, using CRYSTEK high-performance oscillator, low phase noise and low jitter.
Features:
1, SU-1 is the first using the XMOS latest xCORE-200 series of high-end USB digital interface products. New generation XMOS chip, using more advanced process technology, performance than the older U8 chip doubled, reaching 1000MIPS processing capabilities.
2 , it is known, the weight of the core is digital audio algorithms. Our team in the field of digital audio work for many years, at the same time get XMOS FAE support team, we conducted a number of technical improvements and optimization algorithms on the basis of the original firmware.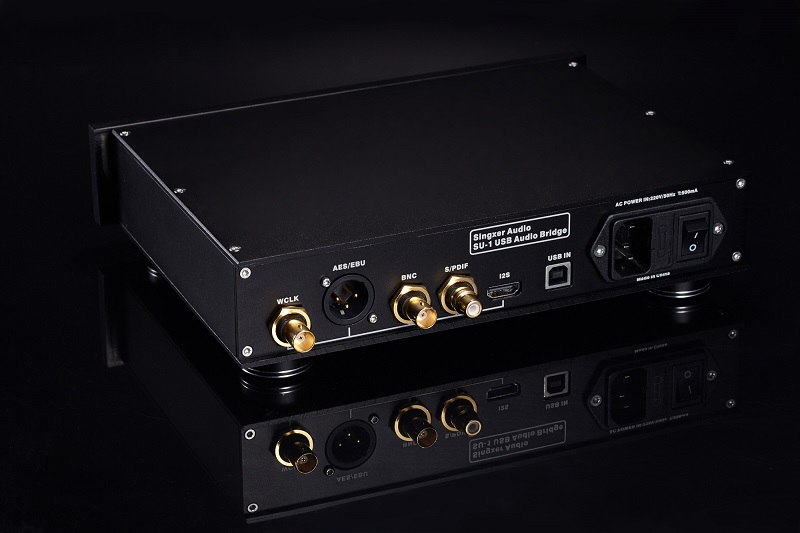 Specifications:
Each output interface supports sample rates:
PCM: 44.1KHz,48KHz,88.2KHz,96KHz,
176.4kHz, 192KHz, 352.8KHz, 384kHz
[ Wherein I2S out support full sample rate , S / PDIF supports up to 192KHz]
DSD: 2.8 MHz (DSD64)   –  DoP,native
5.6 MHz (DSD128)  –  DoP,native
11.2 MHz (DSD256) –  DoP,native
[ Wherein I2S out support all DSD format , S / PDIF and AES / EBU support DSD64 DOP mode ]
位宽:最高32 bit over I2S output
最高24 bit over S/PDIF
Each interface electrical standards:
1 , the USB input socket is a standard USB-B type female, the USB power supply range 4.5V-5.1V ;
2 , the RCA connector outputs standard S / PDIF signal level is 550mV ( access standard load ), the output impedance of 75 ohms;
3, the power input is 110/220V AC, internal use RS importing adapter for power.
Design details:
1 , carry out electricity as the mother of the acoustic design concept, pay attention to the power supply circuit design, high-performance, low noise and fast response of the LDO as the main power source. The entire board using multiple independent path LDO power supply, wherein the clock even partially adopted ADI 's ultra low noise LDO , in order to ensure the ultimate output performance laid a solid foundation.
2 , the PCB motherboard with 4 -layer circuit board design, ensure that you have full power and ground plane layer, using the method of high-speed digital design, signal integrity and power integrity of the entire board. The clock signal for special treatment, using package design and precise impedance control, thereby ensuring the signal quality and increase the clock anti-jamming capability. Input and output signals follow a standard design, especially USB high speed signals using a 90 ohm differential impedance control.
System Compatibility:
1, Windows XP, Windows 7, Windows 8; 32/64 bit, you need to install special drivers
2, Native MacOS 10.6 and later, using the system comes with drivers
3, Native Linux with UAC2 compliant kernel, using the system comes with drivers
4, Android OS 4.2 and above, the need to support OTG function.
I2S interface with HDMI output socket:
1. The level of 3.3V for the LVDS differential signals;
2. The output signal is muted, DSD ON signal, 5V power supply (low current);
3. The output signal mute, DSD ON signal can be modified according to customer needs, internal CPLD can define different output pins; the two signals can be output to any socket PIN13,14,15,16 pins.
2017 model shown. NEW 2018 model differs with 10 switches.
DOWNLOAD DRIVERS FROM THIS LINK: Most current Drivers/Manual package in link below as a ZIP format file. ASIO drivers for Win7/8/8.1/10 (these drivers support DSD512 native if your SU1 has our special Firmware update, which is standard on the KTE SU1 DDR (native dsd512 support).
Singxer_v4.45.0_Driver_Manuals
 (Win7/8/10 32/64bit, MAC 10.6+ not required, Android 4.2+ support OTG)
Please pay attention to the i2S config of the following devices.
1.PSAUDIO
2.GUSTARD
3.Audio-gd
4.L.K.S
5.Holo Audio
The following are the two firmware's that are basically the same except reversing DSD channels for proper playback. CHOOSE accordingly to your DAC!!!
newer 2018 models are slight different and have more support for more dacs…here is info for serial SU001350 and above… some minor improvements have been made to the 2018 models of SU1 – please ask me any questions you have.  upgraded i2s circuit with improve 4way circuit instead of LVDS. gold plated HDMi connector, improved noise shaping for spdif, improved firmware, improved isolation circuit, improved crystek clock and better support for different clock output freq. More support for other dacs, including the W4S.